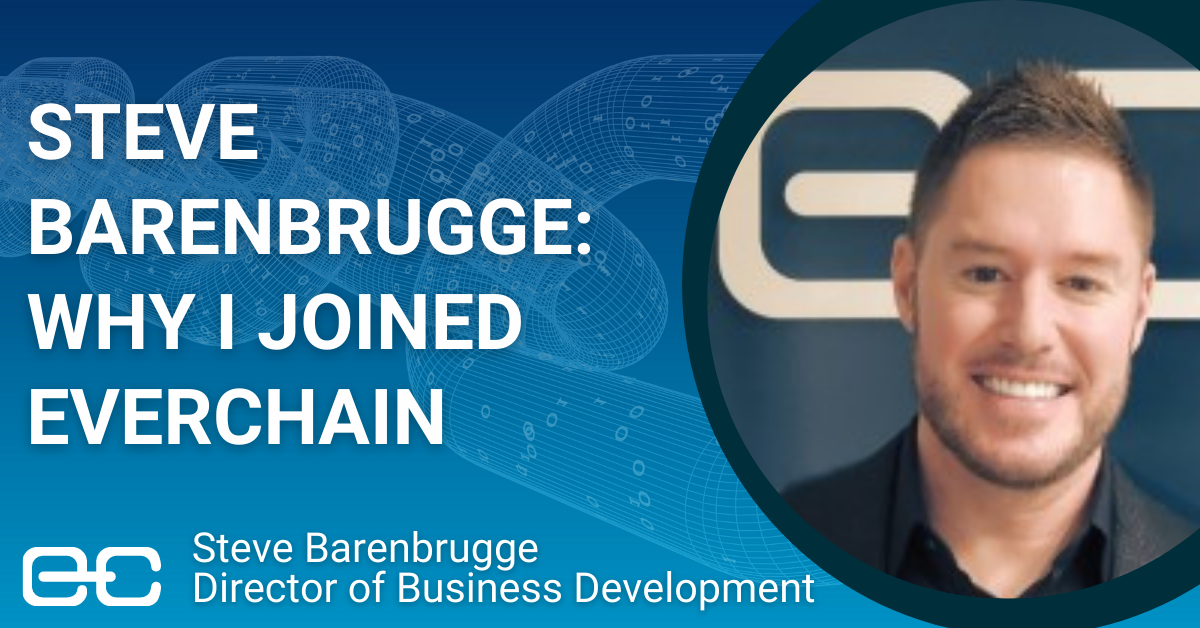 We sat down with EverChain's Director of Business Development, Steve Barenbrugge, who joined our team about two years ago. We wanted to understand the "Why" behind his choice to join EverChain and hear what he loves about the EverChain team.
Why does EverChain exist? To assist and protect our clients during recovery, leading with compliance and innovation. I joined the EverChain team nearly two years ago - mainly being drawn to the opportunity because I had a finance and banking background and love digital solutions, but I also wanted to play a major role making a difference in the debt sale space. Once I saw EverChain's platform and technology, I saw the solutions. I knew right then that EverChain was the solution to literally everything that had been missing in this industry. One of my goals was to spread the word - for people to have a different opinion after talking to me and learning about what we do to help their business save time, expand and build their company resources, and add positive cash flow to their bottom line while protecting their consumers and their brand along the way. I believe EverChain can truly help every business and lender out there solve a major problem. At the end of the day, it is my goal to create as many success stories as possible.
Since 2007, I have aspired to create a professional career reputation in the finance and banking/lending industry and to become a valuable, trusted advisor and business partner for companies who care enough about their brand to ask us what we can do to help them grow. My goal was to utilize my experience to create a strong culture with clear and defined compliance expectations that would prevent and minimize reputational risk inside and out.
I can confidently say that our products and solutions help businesses minimize regulatory, legal, reputational risk and costly violations -- all while maintaining relationships with clients and earning the trust and reputation of being "the only way to incorporate debt sales into a recovery strategy." The crucial role compliance plays in effective debt collection management cannot be ignored. This essential component impacts how debt collection is controlled and managed, and why EverChain exists -to ensure debt sales are performed and handled as safely and efficiently as possible.
My big picture goal is to see my work results matter enough to inspire change for each and every individual client. Not only did my work need to make an impactful difference in other people's lives, but it also needed to be revolutionary. Another goal is to continue protecting and changing as many people's opinions of debt sales as possible in the best and most creative ways. I cannot personally sell any product or service unless I truly believe in it - the brand, the mission, the team - all of it makes a difference. So, in a lot of ways, my "why" is my team, and my opportunity to be seen as someone who every company and person wants to work with. I've spent a lot of time getting to this point in my career and I see it as my duty to assist as many people as I possibly can.
From the very start, EverChain felt like something I could get behind and promote to help companies change in the best ways. I moved my entire life and family from Utah to Las Vegas in one of the most volatile times in my entire life, taking a risk to quit my former successful career, in order to start over with a new company in a brand-new, unfamiliar city - in the middle of a global pandemic. This has never been just a "job" to me, this was a career decision, and I will stop at nothing to create continued success with those around me, who trusted me to deliver the most valuable results in our company's history. I feel great about the results I have been able to deliver up to this point, and I am only just getting started.
What can I do for you? Are you a lender and/or business looking to generate additional revenue streams? "Show me your "why" and I'll help you scale it." In that process, I will help you scale your recovery efforts as well. You can read more about Steve on LinkedIn Profile, here: Steven Barenbrugge | LinkedIn. Learn more about compliant debt sales at everchain.com or book your consultation today!