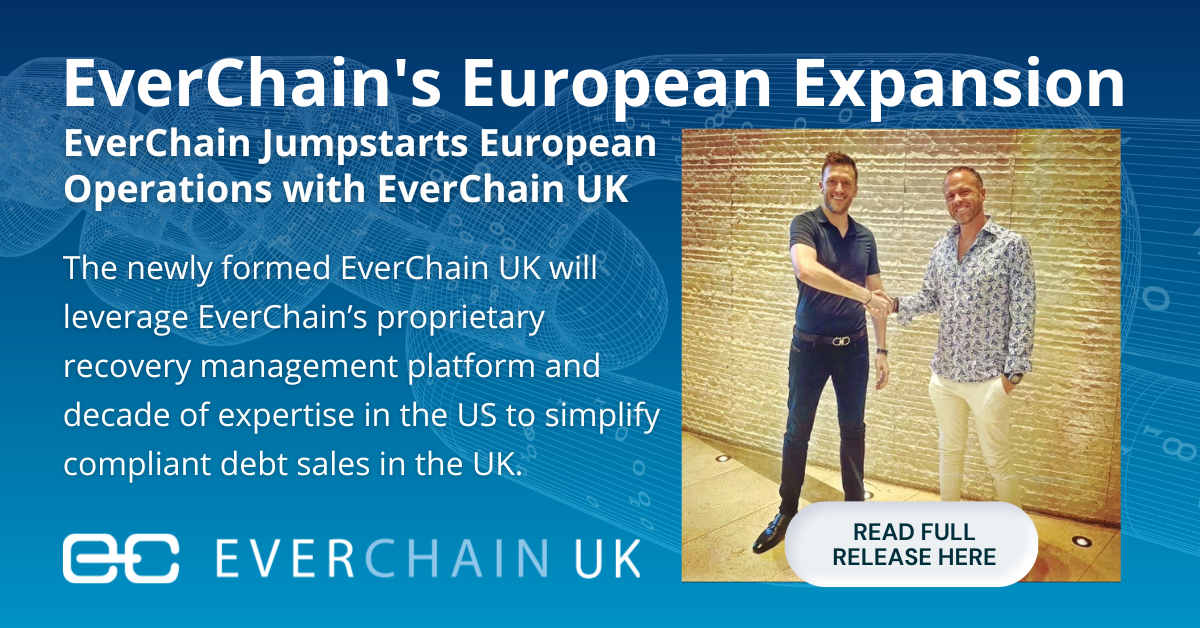 The newly formed EverChain UK will leverage EverChain's decade of experience and proprietary recovery management solution to bring compliant debt sales to the UK
[Henderson, Nevada] July 19, 2022 - EverChain, the only consumer-centric Recovery Management Solution (RMS) for consumer lenders and creditors, today announced the initial phase of its international expansion strategy with the opening of EverChain UK. The newly formed EverChain UK will accelerate EverChain's global growth plans in the United Kingdom and enable expansion into the rest of Europe over the next few years. EverChain UK will usher in an evolution through innovation, customized to meet the needs of the UK market and comply with national and local regulations.
Much like EverChain, EverChain UK focuses on providing consumer lenders with compliant recovery solutions. With this expansion, EverChain adds a complementary operational infrastructure and gains an experienced team, led by Dan Ware, EverChain UK's President. Ware will lead expansion efforts of EverChain UK and build out its presence in other key European markets.
The expansion also allows EverChain to grow its proprietary Recovery Management Solution (RMS) beyond North America, enabling UK-based lenders and creditors to sell their uncollected receivables safely and compliantly, and track and manage activity for the life of every account sold. Many of North America's leading consumer lenders and creditors already rely on EverChain's RMS platform to monitor, recover, or sell their uncollected receivables, and expansion in the UK opens doors to increased global growth.
"Ware and his team know how to deliver our customer-centric, compliance-driven value proposition operationally across the UK," said Matthew Wratten, Chairman and CEO of EverChain. "We're excited about the opportunity to expand and thrilled to build on EverChain's technology and operational expertise to help accelerate growth globally."
"We've long admired EverChain's market dominance and leadership in North America and their dedication to building a mission-driven company that makes it easy to compliantly sell debt," said Ware. "Together, I believe we can build upon EverChain's core operational expertise, technology platform, and code-driven compliance engine to bring that scalable experience to the UK market."
About EverChain
EverChain is the only consumer-centric Recovery Management Solution (RMS) for consumer lenders and creditors. EverChain's technology was developed to provide compliance oversight and transparency throughout the collections and recovery process. The EverChain helps creditors compliantly manage and optimize recovery ROI while maintaining continuity of culture throughout the entire customer journey – including post-default. This visibility and control create unprecedented control for creditors post default, resulting in an improved experience for their consumers.