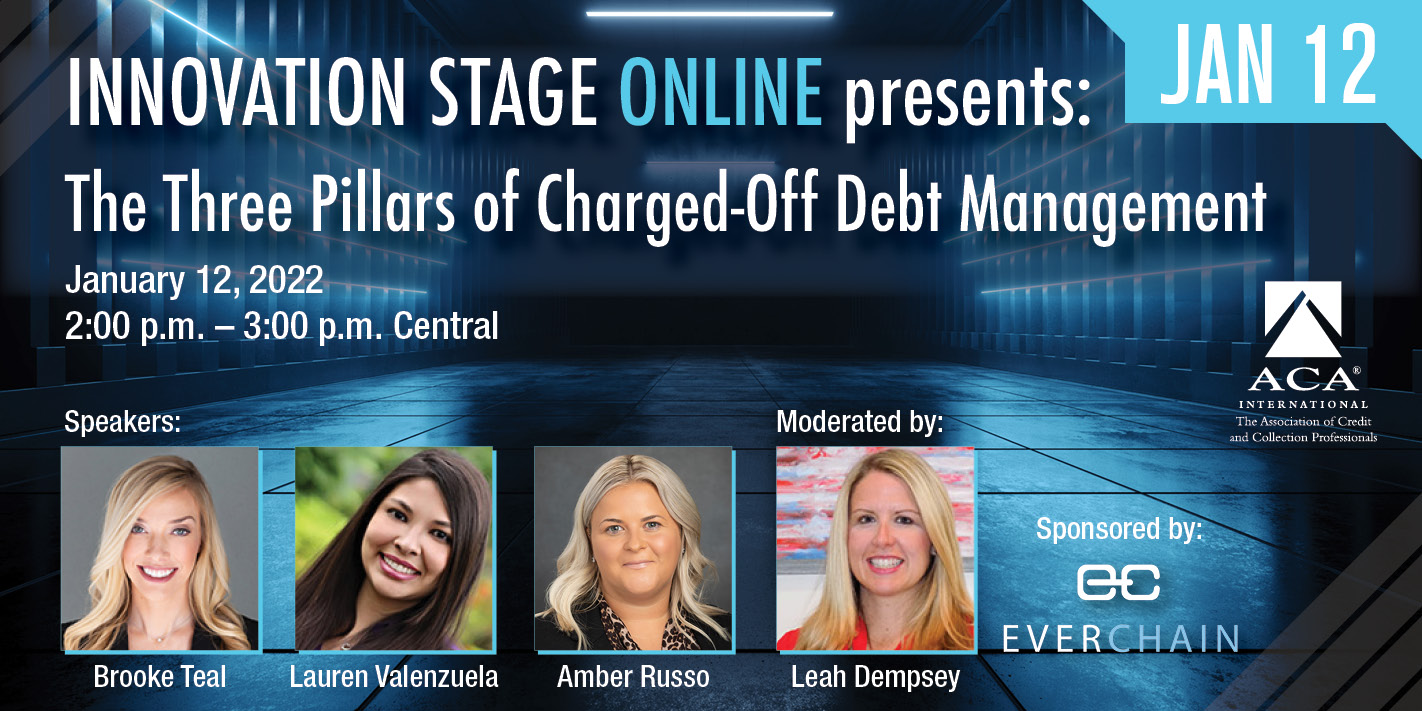 Join ACA and EverChain for a power-packed webinar where you will learn how innovative new technology is helping creditors maximize compliance and enhance the consumer experience during the entire recovery process. We will explore how advances in technology have impacted the three pillars of charged-off debt management including Debt Sales, Vendor Placements, and Attorney Litigation. You will gain key insights on mitigating risk and maximizing return from industry experts including EverChain, whose DebtTrader platform was the first fintech marketplace for selling non-performing consumer receivables, Actuate Law, and Kino Financial. This unique group of women in consumer finance will discuss the top ways to monetize uncollected assets and give expert insights into what you need to know to be compliant and reduce risk to your bottom line and your brand when engaging in recovery.
View the 3 Pillars of Charged Off Debt Management Recording using the link below:
Who's the audience: The audience is wide since the topic is so broad and relevant to most areas of the industry including collections agencies, debt buyers, creditors and anyone who has charged off debt or uncollected receivables.
Presenters
Vice President of Business Development, EverChain
Brooke Teal is the Vice President of Business Development at EverChain. Prior to joining EverChain, Brooke was the Director of Business Development for a nationwide collections network. She was also the Lead Attorney for a creditor's rights law firm where she represented both original creditors and debt buyers. Brooke previously worked as in-house counsel for two of the top five debt buyers in the nation, focusing on litigation and compliance. Brooke has served as the Florida Creditor's Bar President, presented at the 2021 ACA International Conference and Expo, and was awarded the "Top 40 under 40" award by the National Trial Lawyers. She is currently licensed to practice law in Florida, Georgia, and Alabama.
Lauren Valenzuela
Counsel, Actuate Law, LLC
Having served as general counsel for many years in the financial services industry, Lauren has a breadth of experience advising on compliance with federal and state consumer protection laws, government regulation and affairs, state licensing requirements, data privacy, litigation defense, labor and employment issues, transactional matters, and business strategy. Lauren is a leader in the accounts receivables industry. She serves on multiple committees for ACA International and is an ACA certified Credit and Collection Compliance Attorney. She has presented and/or written compliance commentary for InsideARM, ACA International, AccountsRecovery.Net, Receivables Info, and the California Association of Collectors (CAC). She was recognized as a Top 50 Receivables Professional and a Top Women Leader in Accounts Receivable in 2019 by Receivables Advisor.
President, Kino Financial
President of a woman owned and managed regional debt buying company based in Arizona. Her responsibilities span all facets of portfolio evaluation and acquisition, agency and legal network management and business operation. Through her over 15 years in the receivables management space, Amber has participated in more than 150 portfolio purchases. Kino Financial Co., LLC is a Receivables Management Association International Certified Receivables Business. Amber serves the RMAI organization on a handful of committees including Legislative Fundraising, Editorial, and the DE and I task force. She was also recently appointed to the RMAI Certification Council. Amber was awarded last year's Receivables Management Association International President's Award for her service to the organization.
Moderator
Vice President and Senior Counsel of Federal Advocacy
ACA International