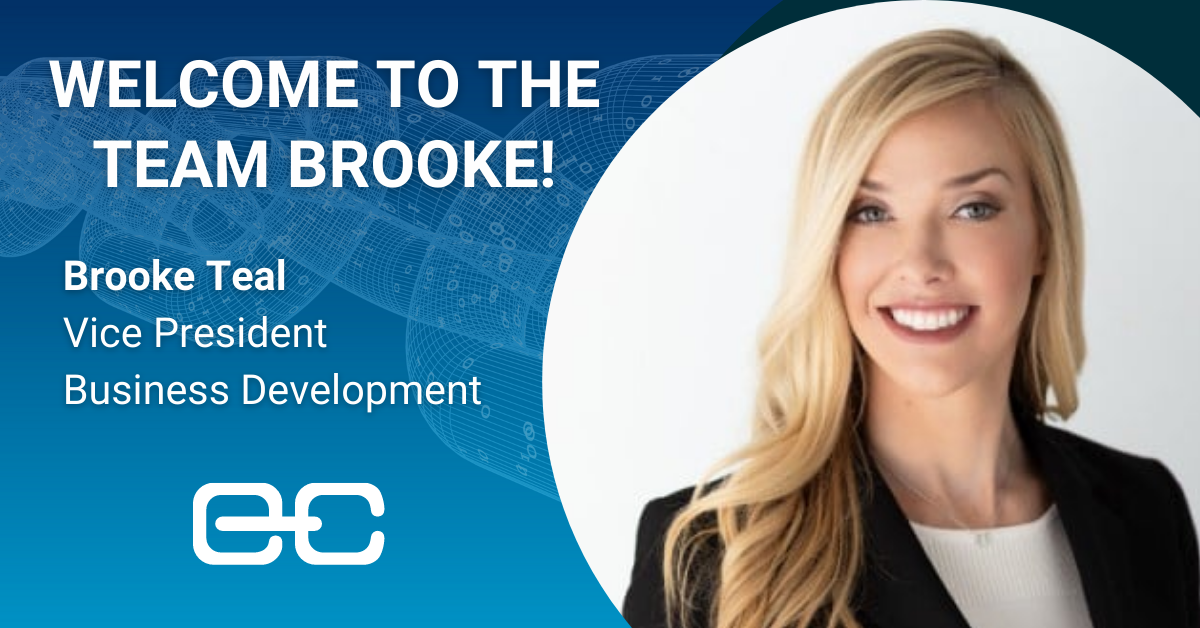 Brooke's Why: "I previously worked as an attorney representing debt buyers and lenders. Many of the cases I handled when litigating debt buyer cases had chain of title and media issues due to the traditional means of debt sale. I joined EverChain because the EverChain network and platform answered the problems I was seeing in the courtroom. I also firmly believed in EverChain's mission to protect the consumer. It is extremely important for the customer experience to be positive throughout the entire life of the loan, especially at default; EverChain is the only means of debt sale to ensure that complete positive experience."
Brooke Teal joins EverChain as Vice President of Business Development
Ms. Brooke Teal is the Vice President of Business Development at EverChain. She is responsible for leading the sales team as well as the assessment and development of new market opportunities.
As former lead collections attorney and member of the Florida, Georgia, and Alabama Bar, Ms. Teal brings more than a decade of relevant legal experience and collections expertise to the EverChain team. She has worked for several well-known law firms across the country and is respected as a leader in the legal field and financial industry.
Before joining EverChain, Brooke led Business Development efforts at AACANet. Prior to that, she worked as the lead collections attorney for Lloyd & McDaniel, PLC and Jefferson Capital Systems, LLC. She also held positions as an Appellate Attorney for the Office of the Public Defender - 10th Judicial Circuit, was Internal Legal Staff Counsel for Encore Capital Group/Midland Credit Management LLC and worked with O'Brien Hatfield Teal as a Criminal Defense Attorney.
Ms. Teal is a regular speaker and panelist at industry conferences, most recently talking current litigation trends and mitigating risk in recovery at the 2021 ACA International Convention and the 2022 RMAi Annual Conference. From 2018-2019, she was the President of the Florida Creditors Bar Association and is the former Secretary of the Small Claims Rules Committee for the Florida Bar.
Brooke is a member of the "Top 40 under 40" National Trial Lawyers. She received her law degree from Stetson University College of Law and had internships with the U.S. Attorney's Office for the Middle District of Florida – Criminal Division Legal Intern, Federal Public Defender's Office for the Middle District of Florida – Legal Intern. She received many accolades including Honor Roll, William F. Blews Pro Bono Award Recipient, Anne L. Weintraub Scholarship Recipient, WestlawNext Certification, Research and Writing Teaching Assistant, and China Study Abroad Program at Nankai University: Summer 2011, American Bar Association.
Brooke graduated from The Florida State University (FSU) with a Bachelor of Science, Cum Laude, with honors, double Majoring in Political Science and Social Science with a Minor in Psychology. She was on the Dean's List, and was an Honors Medallion Recipient, Honors Legal Scholar, FSU Blackboard Student Star, Honors Delegate, Phi Eta Sigma National Honors Society, and an FSU Varsity Cheerleader for four years.
Brooke lives in Atlanta, Georgia with her rescue dog, Bandit. Contact Brooke on LinkedIn.